Although Twitter owner Elon Musk has advocated for a libertarian vision of an "uncontrolled" internet, the Tesla and SpaceX CEO has selected a World Economic Forum (WEF) higher-up to replace him as CEO of Twitter.
"Free speech is the bedrock of a functioning democracy, and Twitter is the digital town square where matters vital to the future of humanity are debated," Musk said when his deal to acquire the popular social media platform was announced in April 2022.
However, Musk has chosen Linda Yaccarino, an NBC executive, to take over as Twitter's CEO.
"I am excited to welcome Linda Yaccarino as the new CEO of Twitter!" Musk tweeted on Friday, adding that Yaccarino "will focus primarily on business operations" while Musk will handle product design and new technology.
According to Forbes, NBCUniversal announced early Friday that Yaccarino would no longer be head of advertising and partnerships for the mass media conglomerate.
The news is significant because Yaccarino is currently Chairman of the WEF's Taskforce on Future of Work and sits on the WEF's Media, Entertainment and Culture Industry Governors Steering Committee, according to the former NBC head's LinkedIn page.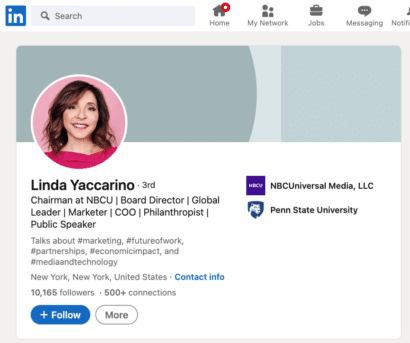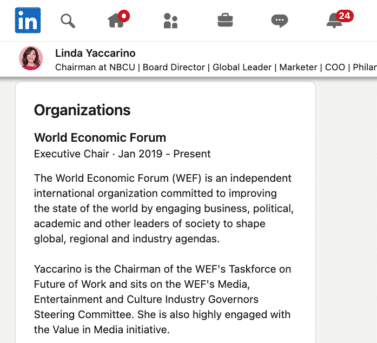 She is also engaged in the WEF's "Value in Media" initiative, which "began with an in-depth study of consumer behaviour, publishing research on little-explored markets such as India and China," according to the Forum's website.
Other media initiatives at the WEF seek to "improve diversity" in media, build a "sustainable media ecosystem," and raise "awareness and education of ESG goals," referring to "woke" Environmental, Social, and Governance ideology.
Those initiatives aim for an "inclusive outlook on how platforms can be used for social good" as well as "[a]dvance public-private cooperation" and "[a]chieve tangible results in improving social justice, health, well-being, education, economic inclusion, and cohesion in society."
The WEF also persistently advocates for online content censorship, apparently conflicting with Musk's desire for a pro-free speech Twitter.
In a 2021 WEF publication titled "Why we need a global framework to regulate harm online," the globalist organization calls for what it refers to as "safer societies online and offline."
This end would be achieved by "erect[ing] digital guardrails" and "applying the digital seatbelts."
In the publication, the WEF takes aim at what it refers to as COVID-19 "Health misinformation."
The organization stands against the so-called "proliferation of health misinformation, particularly when it comes to vaccines," according to the article.
"Research has shown that a small number of influential people are responsible for the bulk of anti-vaccination content on social platforms," the article grieves. "This content seems to be reaching a wide audience. For example, research by King's College London has found that one in three people in the UK (34%) say they've seen or heard messages discouraging the public from getting a coronavirus vaccine. The real-world impact of this is now becoming clearer."
The piece maintains that vaccine hesitancy is unacceptable and asks "how far" digital platforms like Twitter should go in moderating "anti-vaccination narratives."
This is despite research published in February in The Lancet confirming that natural immunity (protection acquired from a virus infection instead of vaccination) can provide strong and long-lasting protection against severe illness and death.
That study, signifying the largest meta-analysis to date on immunity following infection, analyzed data from 65 studies in 19 countries, and found that, for all variants, infection-acquired immunity reduced the risk of hospitalization and death from a COVID reinfection by 88.9% for at least 10 months.
The study authors emphasized that the "high" immunity gained by past infection "should be weighed alongside" pharmaceutical methods of preventing COVID infection, but stressed that natural immunity could even be "higher" than those other methods.
"[O]ur analysis of the available data suggests that the level of protection afforded by previous infection is at least as high, if not higher than that provided by two-dose vaccination using high-quality mRNA vaccines (Moderna and Pfizer-BioNTech)," the authors concluded.
It should be noted that COVID vaccine-makers Pfizer, Moderna, AstraZeneca, and Johnson & Johnson are listed as official partners on the WEF's website, along with major pharmaceutical manufacturers Merk, Bayer, Sanofi, and Serum Institute of India, raising questions about conflicts of interest.
But does the Lancet publication, which concludes that natural immunity could grant "higher" immunity than vaccines do, count as promoting what the WEF refers to as an "anti-vaccination narrative"?
If it does, does the WEF believe it knows better than a peer-reviewed medical journal founded in England in 1823, representing one of the oldest and highest-impact academic journals in the world?
If Twitter would ban posts communicating information from medical journals, what wouldn't they ban?
Will Yaccarino, a media executive, decide that she knows better than medical doctors, and advocate for suppressing not only Twitter users' free speech but peer-reviewed medical journals?
Will Yaccarino's WEF ties influence her judgment at Twitter?
These questions remain unanswered but are nevertheless more relevant now that Musk has picked a member of the World Economic Forum aristocracy to be Twitter's new CEO.