Former President Donald Trump is leading with 54% of potential primary voters supporting him, while Florida Governor Ron DeSantis trails at 26%, tying his lowest level of support since tracking began in December, according to the latest Morning Consult survey on the 2024 Republican primary.
Former Vice President Mike Pence's popularity has taken a hit, with his favorability rating declining from 60% to 55% among potential primary voters.
Additionally, the percentage of voters who have heard something negative about Pence has increased from 15% to 24%.
Pence is only polling at 7% in the nominating race.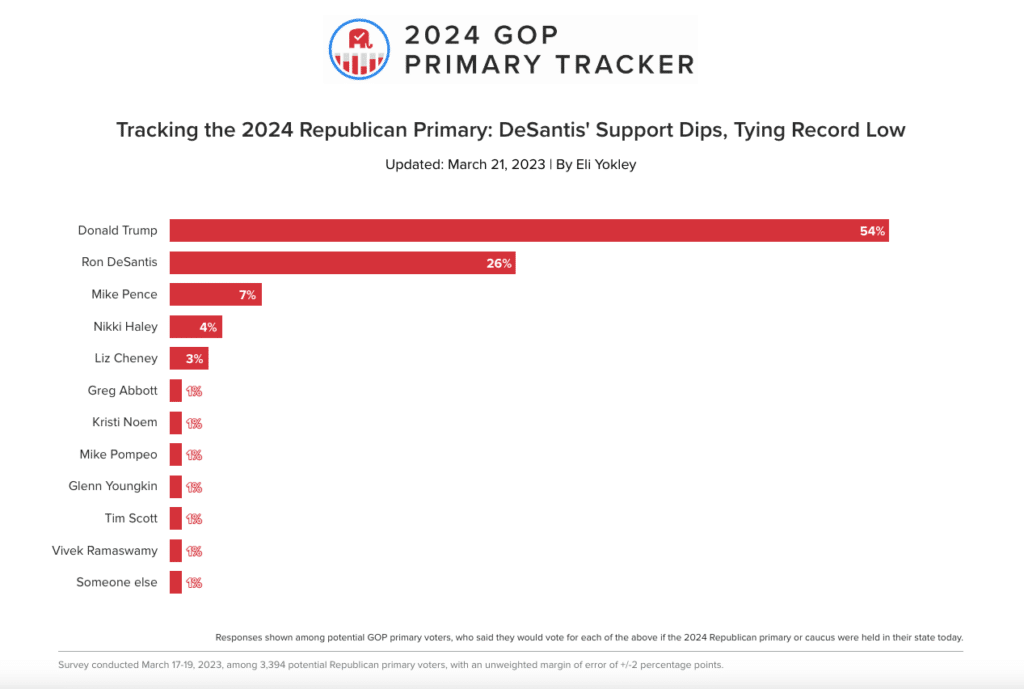 When it comes to potential challengers for the GOP's nomination, there is meager backing for Trump's declared challengers, including former South Carolina Gov. Nikki Haley with 4% support and Ramaswamy with 1% support.
In terms of second-choice preferences, DeSantis is the second choice of 46% of potential GOP primary voters who are backing Trump, while 43% of DeSantis' supporters view Trump as their top backup option.
Haley is the second choice of 6% of Trump supporters and 15% of DeSantis supporters.
Pence is the second choice of 17% of Trump supporters and 16% of DeSantis backers.
Notably, more of Trump's supporters (17%) than DeSantis' supporters (5%) are uncertain about where their loyalties would fall if their first choice were not in the race.