In the impending 2024 presidential race, the Republican party is making waves as former President Donald Trump asserts his considerable lead.
A Morning Consult poll reveals that Trump garners a commanding 56% support from GOP voters, while Florida Gov. Ron DeSantis trails at 22%.
Trump's lead, however, has dipped by 10 points since mid-May, a decline that began even before DeSantis's official entry into the race on May 24.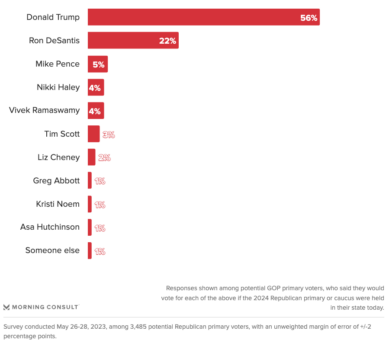 While Trump and DeSantis have the majority of the party's attention, other potential contenders are also making their presence known.
Among these are South Carolina Sen. Tim Scott, former South Carolina Gov. Nikki Haley, entrepreneur Vivek Ramaswamy, and former Arkansas Gov. Asa Hutchinson.
Of the GOP electorate, Scott receives 3% of support, while Haley and Ramaswamy each hold 4%. Hutchinson, meanwhile, holds only 1%.
Interestingly, the GOP electorate reported hearing more about DeSantis than Scott, despite the latter's recent campaign launch.
The survey revealed that GOP primary voters were 31 points more likely to have heard something positive about Scott after his announcement, but 56% reported hearing nothing about him at all, compared to 33% for DeSantis.
The study also investigated secondary choices among GOP primary voters, with DeSantis as the top backup option for 47% of Trump's supporters and Trump reciprocally the secondary choice for 51% of DeSantis's backers.
Additionally, 14% of Trump and DeSantis supporters would pick former Vice President Mike Pence as a second choice.
Haley and Ramaswamy are the second choices for 8% and 7% of DeSantis and Trump supporters, respectively.
A notable discrepancy is seen with 14% of Trump's supporters uncertain of their next choice if Trump were not in the race, compared to 5% of DeSantis' supporters showing similar uncertainty.
The survey also projected hypothetical November matchups, putting Biden against Trump and DeSantis.
While Trump tied against the incumbent president, DeSantis trailed behind Biden 40% to 43%.
Trump's standing against Biden has risen by 5 points since May's onset, while DeSantis's numbers remain stagnant.
In terms of popularity, Trump enjoys an approval rate of 79% among potential GOP voters, while DeSantis is viewed favorably by 71% of the party's electorate.
Other potential candidates have less robust approval ratings, with Haley, Scott, Ramaswamy, and Hutchinson favored by 49%, 44%, 37%, and 19% of GOP voters respectively.
Meanwhile, a new ECU poll regarding a hypothetical 2024 Republican presidential primary in West Virginia shows Trump holding a "commanding lead over Florida Governor Ron DeSantis, 54% to 9%."