Originally published May 31, 2023 5:00 pm PDT
Target Corporation's Wednesday stock price is down 15.81% from last month, according to the New York Stock Exchange (NYSE).
The retailer's plunging stock value comes after it pushed both sexualized and satanic ideology through its products and advertising, demonstrating a significant disconnect between Target's messaging and its customers.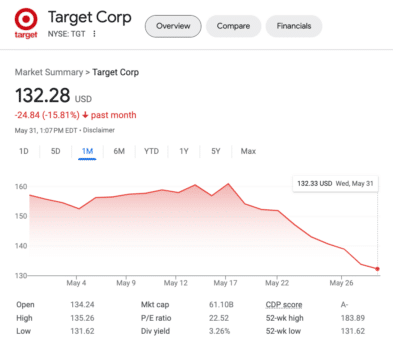 The prominent American company launched its so-called "Pride" in May, offering more than 2,000 products, including clothing, books, music, and home furnishings as part of its "Pride Collection."
Target's Pride Month wardrobe notably featured "tuck-friendly" swimsuits for transgender-identified people and designs from Abprallen, a London-based company known for its occult- and satanic-themed LGBTQ clothing and accessories.
One of the designs found on the apparel maker's T-shirts and pins bore the message, "Satan respects pronouns."
Target sells a variety of Satan-themed products, including books like "The Satanic Bible" and "Satanic Rituals."
Their online store also features baby clothing donning LGBTQ slogans, including a "Pride bodysuit for babies."
Fox News reported that since the backlash, Target's market value has fallen over $12 billion to $61.77 billion as of Tuesday's closing price, when mid-month the market value was over $74 billion.
"For more than a decade, Target has offered an assortment of products aimed at celebrating Pride Month," a company spokesperson told Fox. "Since introducing this year's collection, we've experienced threats impacting our team members' sense of safety and well-being while at work."
Despite the company's massive financial losses, the Target representative doubled down on the retail giant's "commitment to the LGBTQIA+ community."
"Given these volatile circumstances, we are making adjustments to our plans, including removing items that have been at the center of the most significant confrontational behavior," the spokesperson went on to say. "Our focus now is on moving forward with our continuing commitment to the LGBTQIA+ community and standing with them as we celebrate Pride Month and throughout the year."
Target is owned by infamous financial asset managers BlackRock, Vanguard, and State Street.
BlackRock is an official partner of the "Great Reset"-advancing World Economic Forum (WEF), where the money manager's CEO, Larry Fink, serves as a board member.
Fink has admitted that his company is "forcing" gender-related ideologies throughout the company.