After signing a letter expressing disappointment with the new administration, a pro-life evangelical scholar who voted for President Joe Biden said that while he would vote for Biden again if the 2020 presidential election were held today, he would not make his support public.
Richard Mouw, president emeritus of Fuller Seminary in California and a member of Pro-Life Evangelicals for Biden, spoke to The Christian Post Tuesday, days after his group issued a statement in response to the president's support for a coronavirus relief package that did not include a longstanding provision that prevents the use of taxpayer dollars to fund abortions.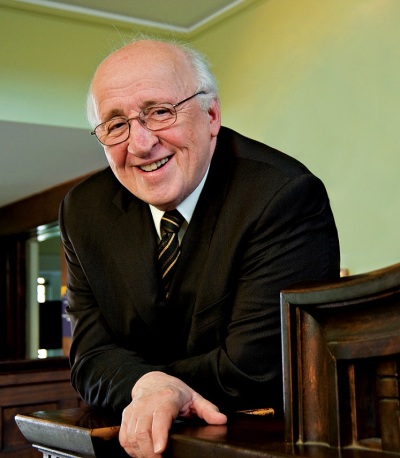 "We are very disappointed about the COVID-19 relief package's exclusion of the Hyde Amendment, a longstanding, bipartisan policy," they wrote. "We're even more upset that the Biden administration is supporting this bill."
As a result of Biden's support for the bill, the group contended that they feel "used and betrayed."
Mouw told CP that he and other members of Pro-Life Evangelicals for Biden group knew that Biden had been "shifting" his position on the Hyde Amendment when they released a statement in support of Biden's candidacy last October, one month before the 2020 presidential election.
He maintained that conversations they had with campaign officials who now help the administration with faith outreach were reassuring.
"We made … clear that we would offer support with the understanding that they would urge the White House to have serious conversations with Catholics and evangelicals who are right-to-life people," he recalled. "The problem is that we haven't had those conversations, and leaving the Hyde Amendment out of this particular package, this latest COVID package, is a signal that … there really … is no room for that kind of conversation."
Mouw confirmed that an official from the Biden administration reached out to him on Monday.
"We're going to have a meeting later this week," he said.
Mouw and Ronald Sider, another member of Pro-Life Evangelicals for Biden, will sit down with two members of the White House faith outreach office to address their concerns.
When asked if he would vote for Biden again and issue a statement in support of his candidacy if the 2020 presidential election was still forthcoming and he knew that Biden would support a coronavirus relief bill that excluded Hyde Amendment protections, Mouw responded that he would "vote the same way" while adding, "I would not give my public support."
Mouw indicated that while he disagrees with Biden's position on abortion, there are other areas where he has found common ground with the new administration, specifically on the issues of global warming and immigration.
Acknowledging that he received "a lot of angry messages from right-to-life people," some of whom called him "naive" due to his support for Biden and subsequent feelings of betrayal, Mouw still defended the object of his previous remarks in support of Biden. He said they would be necessary to provide reassurance to the "many younger evangelicals who are not happy about … the way in which their parents and grandparents have endorsed and defended the Trump administration."
"We … don't want to lose them to evangelicalism because of what is perceived as a mean-spirited, highly partisan commitment on the part of the older generation of evangelicals who voted 81% … in the presidential election before this last one for Mr. Trump," he said.
"We thought it was important to hold up the right to life position and at the same time, say it's OK to be concerned about a broader range of issues such as global warming and children at the border separated from their parents and those kinds of questions. And so, we wanted to use our own access through the Biden campaign people to at least get them to stay in conversation with people like us."
In addition to explaining that he was "less optimistic" about the possibility of Biden and the Democratic Party building a "bigger tent" to accommodate pro-lifers, Mouw expressed concern about the president's support for another major legislative initiative: The Equality Act.
According to Mouw, the legislation puts "the rights of Christian institutions to preserve commitments to traditional biblical teaching regarding sexuality without being penalized in terms of federal grants, federal loans for students" in jeopardy.
"A lot of Christian colleges and universities are well over 50% dependent in their tuition income on students getting federal loans," the Fuller Seminary president emeritus added.
Mouw warned that making "the sexuality issue" an eligibility requirement for "receiving students with federal loans" would deal a "huge blow" to faith-based schools.
Leading up to the 2020 presidential election, Biden had vowed to push for the Equality Act's passage within his first 100 days in office. Biden indicated that he would work to codify Roe v. Wade, the 1973 U.S. Supreme Court decision that legalized abortion nationwide, into law.
Biden's documented public support for policies widely opposed by evangelicals has led some conservatives, like former Trump attorney Jenna Ellis, to conclude that "'Evangelicals' for Biden are getting exactly what they voted for."