Despite slumping 'hard' data, 'soft' survey data has been trending higher on a bed of soaring prices (well it must be demand), and supplier delivery delays (well it must be demand) providing any and all asset-gatherers and commission-rakers the ammo to confirm the recovery. But, perhaps, if today's PMI is right, that trend is beginning to end as Markit's final Manufacturing survey for May dropped from April and also ended below the preliminary print (but was still well into expansion at 62.1).
ISM also reported a small miss in its Manufacturing survey.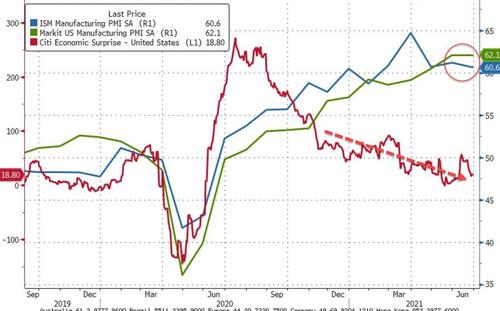 Stagflation threats loom large in the data as prices soar but production slows.
Input costs rose at the fastest pace since data collection for the series began in May 2007, as greater global demand for inputs put pressure on material shortages.
Output growth, however, was weighed down by ongoing and severe supply-chain disruptions, and reports of labour shortages. Although the rate of growth was among the sharpest since May 2007, firms noted difficulties processing new orders amid material delivery delays and challenges finding suitable candidates for current vacancies.
Suppliers' delivery times lengthened to the greatest extent on record in June, as component shortages and transportation issues exacerbated supply-chain woes.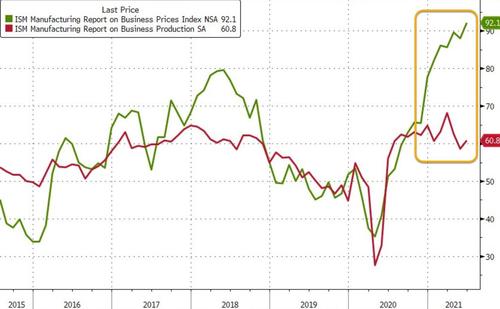 That is the highest prices paid index since the 70s' Oil Crisis…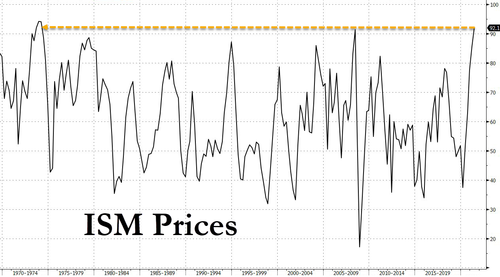 Additionally, ISM's Employment Index dropped back below 50 (into contraction).