Originally published May 22, 2023 6:00 pm PDT
A recent survey conducted by the Harvard CAPS-Harris Poll suggests that over half of American voters believe former Vice President Joe Biden was involved in an illegal influence-peddling scheme with his son, Hunter Biden.
The poll, which took place between May 17-18, 2023, surveyed 2,004 registered voters and found that 53% believe Biden was involved, while 47% do not think this was the case.
When asked, "From what you know, do you think Joe Biden was involved with his son in an illegal influence peddling scheme while he was Vice President, or do you think that is not the case?" participants' responses revealed a division along party lines.
Among respondents identifying as Democrats, 25% believe that Biden was involved in an illicit scheme, while a significant 75% do not.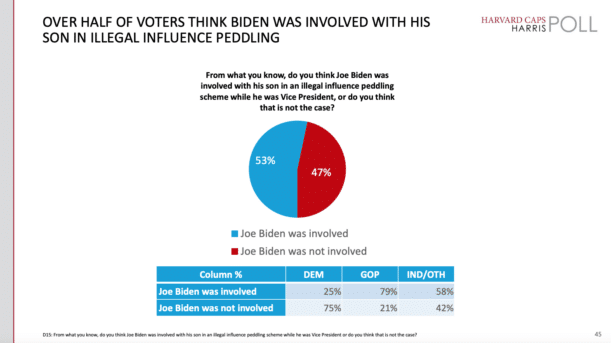 This stands in stark contrast with the views of Republican voters, of whom 79% believe Biden was involved in an alleged illegal scheme, while 21% do not think that this is the case.
Independent voters or those affiliating with other political parties were more evenly split on the question, with 58% thinking Biden was involved and 42% believing otherwise.
These findings paint a complex picture of public sentiment, marked by considerable polarization along partisan lines.
The data showcases an evident ideological divide, particularly among Republicans and Democrats, on the allegations surrounding Biden's alleged involvement with his son in illicit influence peddling during his tenure as Vice President.
Read the full survey below:
House Republicans recently released reports alleging that more than $10 million flowed from foreign entities to companies associated with the Biden family and family members, American Faith reported at the time.
The reports suggest that there is evidence of influence peddling and a correlation between the Biden family and their business associates' work and then VP Biden's responsibilities while in office.
House Committee on Oversight and Accountability Chairman James Comer (R-KY) released a bank records memorandum detailing new information obtained in the committee's investigation into the Biden family's influence peddling and business schemes.
According to the memorandum, the financial records reveal the Biden family and associates' "complicated network of companies" established during Biden's vice presidency, and how they used "complicated transactions to hide payments from foreign nationals, including CCP-linked associates."
Chairman Comer emphasized that the Bidens allegedly made millions from foreign nationals for access and influence through influence peddling schemes: "The Bidens intentionally sought to hide, confuse, and conceal their influence peddling schemes, but bank records don't lie. The Bidens made millions from foreign nationals providing what seems to be no services other than access and influence," he said.
He further added, "The Bidens' foreign entanglements are breathtaking and raise serious questions about why foreign actors targeted the Biden family, what they expected in return, and whether our national security is threatened."
The memorandum highlights the following findings:
The Complicated Web of Biden Family and Associates' Companies: The Biden family and their business associates created "a web of over 20 companies—most were limited liability companies formed after Joe Biden became Vice President."
The Biden Family Received Millions of Dollars from Foreign Sources: Bank records show that the Biden family, their business associates, and their companies received over $10 million from foreign nationals and their related companies, both during and after Joe Biden's vice presidency.
The Biden Family Used Business Associates' Companies to Receive Foreign Funds: Despite creating many companies after Vice President Biden took office, the Biden family used business associates' companies to receive millions of dollars from foreign companies.
Attempts to Conceal Large Financial Transactions: The Biden family received incremental payments over time to different bank accounts, which appear to be meant to "conceal the source of the funds and reduce the conspicuousness of the total amounts made into the Biden bank accounts."
Chinese Nationals Hid the Source of the Money: Chinese nationals and companies with significant ties to Chinese intelligence and the Chinese Communist Party hid the source of the funds paid to the Bidens by layering domestic limited liability companies.
Biden Family and Associates' Activities in Romania Indicate Influence Peddling Scheme: The Biden family and associates' activities in Romania from 2015 to 2017 suggest an influence-peddling scheme. While Vice President Biden lectured Romania on corruption and ethics, the Bidens received over a million dollars from a company controlled by a Romanian individual accused of corruption, Gabriel Popoviciu, through a Biden family associate.
Chairman Comer concluded, "We will continue to pursue additional bank records to follow the money trail and inform legislative solutions to prevent this type of corruption. Americans deserve answers, transparency, and accountability."