Church, family mourn death: 'A saint in the highest places of heaven'
Islamic State-linked terrorists killed a Coptic Christian man kidnapped in November and two others in Egypt, as Christians and those who support the Egyptian army continue to face terror in the Sinai region.
A 13-minute video circulated by Islamic State media platforms Saturday showed Nabil Habashi Salama, a 62-year-old businessman and member of Egypt's minority Coptic Orthodox Church, being shot in the head by a terrorist in the desert.
A video screenshot showed Salama kneeling with his head down as the three militants stood behind him holding rifles with their faces blurred out.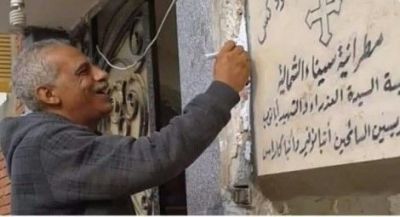 "As for you Christians of Egypt, this is the price you are paying for supporting the Egyptian army," a militant was quoted as saying in the video.
The released video also showed two young Sinai tribesmen being shot and killed in the desert by masked militants, who accused them of fighting alongside the Egyptian military, according to Agence France Presse.
The militants used the video to send a message to "all crusaders in the world," Egypt Today reports.
"As you kill, you will be killed, and as you capture, you will be captured," a militant was quoted as saying.
On Monday, Egypt's interior ministry confirmed that it killed the three "terrorist elements" linked to the Coptic man's execution after an "intense firefight" with security forces. A search is on for other suspected members of the terror cell.
The statement said the suspected terrorists had plans to carry out terror operations against homes and Coptic houses of worship, according to AFP. The ministry noted that security forces found a suicide belt and hand grenade in the militants' possession.