Florida Gov. Ron DeSantis kicked off a convergence of about 600 conservative moms in Tampa on July 15 by urging them to push back against woke ideology, especially in schools.
In a 50-minute speech punctuated by cheers of approval, the Republican governor encouraged the mothers from around the country to have the courage to track decisions of local school boards, challenge elected representatives, and even run for office
Attacks from "the media" and "the left" will be brutal, DeSantis warned.
But the struggle will be worth it, he promised, for parents who choose to fight against liberal initiatives, such as critical race theory woven into school curricula or sexual subjects taught to the youngest schoolchildren.
People in favor of these practices "don't want anybody who's going to shed light on any of the problems with these narratives," said the father of three children under six.
DeSantis' speech launched the Joyful Warriors National Summit, a convention organized by the rapidly growing Moms for Liberty.
But not everyone was applauding.
Outside, a handful of protestors gathered, holding signs objecting to Desantis' assertions that some teachers indoctrinate children, saying he owes the state's educators an apology.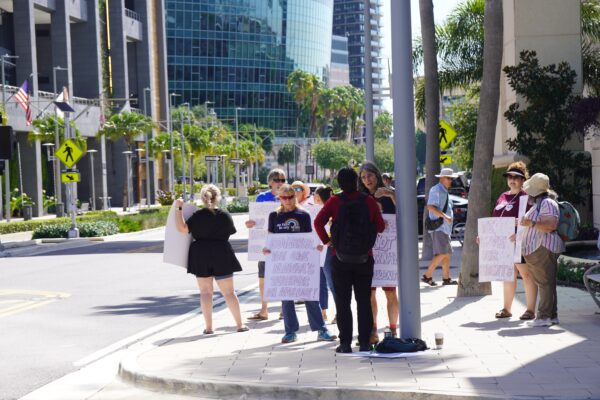 Desantis' appearance marked the start of the first national meeting of Moms for Liberty since the group began in Florida in 2021. The organization first birthed two local chapters, bringing together moms angry about pandemic-related school closures, forced masking of children, explicit materials in school libraries, and other issues.
The movement quickly spread across the nation. Moms mobilized, attending school board meetings wearing T-shirts proclaiming, "We do not co-parent with the government!"
Now, more than 100,000 parents—both mothers and fathers—make up the ranks in more than 200 chapters in 38 states.
Populated mostly with Christians, the group's mission includes holding government leaders accountable for their decisions, and working to replace those who aren't "liberty-minded."
The group promotes a vision of limited government and opposes "government overreach and intimidation tactics."
Members routinely demand change in school board meeting rooms and state capitols. Some have launched campaigns for elected office and won, backed by the support of the Moms for Liberty sisterhood.
Before their gathering began on July 15, state law enforcement officers and their dogs swept the riverfront hotel for signs of danger.
Participants chattered in line, waiting to pass through metal detectors, open their bags for searches, and stretch their arms to be scanned with a wand.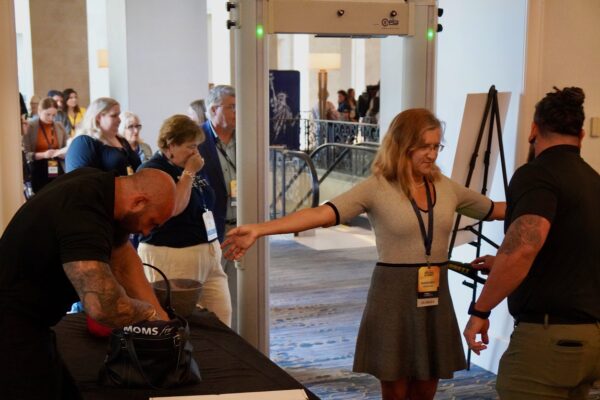 Security measures were unusually stringent for an appearance by the governor, though officials wouldn't say why. Some speculated privately about fear of clashes with Democrats coming together at a hotel directly across the street.
There, the Florida Democratic Party was hours from launching its three-day Leadership Blue 2022. The event would feature the two top Democratic challengers for DeSantis' job, U.S. Congressman Charlie Crist of Florida, and state Agriculture Commissioner Nikki Fried. Also scheduled to appear was U.S. Rep. Val Demings (D-Fla.), the leading challenger of incumbent U.S. Senator Marco Rubio (R-Fla.).
Defeating those Democrats and others in the fall was a significant focus of conservatives at the Moms for Liberty conference mere yards away. Private strategy sessions, open only to members, were geared to empower parents "to defend parental rights at all levels of government," said group co-founder Tina Descovich.
"Most of us would agree that America's children have borne the brunt of the effects of lockdowns and a mysterious illness, and then the invasion of government into our lives in ways we could have never imagined," fellow co-founder Tiffany Justice told the crowd.
But DeSantis' actions in responding to COVID-19—keeping schools open, banning forced masking, vowing to block forced vaccines for children—"have given hope to parents across the country," Justice said.
"I talk to moms all over the country who wish Ron DeSantis was their governor, and I'm often told they cannot wait to vote for him for president," she said, evoking a roar of cheers and applause.
DeSantis hopes to be reelected as governor of Florida on Nov. 8. Political pundits say a win for him is a likely bet.
He has not announced intentions to run for president. But he's widely considered a top contender for the Republican nomination. Recent polling shows his popularity with Republicans nationwide is gaining on former President Donald Trump, who has not announced whether he plans to run.
DeSantis' address to parents sounded like both a stump speech for reelection, and campaign speech for president, said political analyst Susan MacManus, professor emerita for the University of South Florida in Tampa.
Winning reelection by at least 5 to 6 percent of the vote "would be optimal for his political future," MacManus said.
Clearly comfortable with the room's welcoming atmosphere, DeSantis started by touting a state budget with a $22 billion surplus and record tourism.
But the patriotic crowd was focused on the rights of parents to direct the education and health decisions of their children. He soon transitioned to describing efforts to make civics a priority in education in the state and $3,000 bonuses for teachers who boosted their civics training.
And he praised new "Stop WOKE" legislation that blocks the teaching of critical race theory (CRT) in schools and business trainings.
He called attention to a new law giving parents the right to demand to see textbooks and library materials at schools, and consequences for school administrators who don't cooperate.
And he celebrated a new law banning lessons on sexual orientation and gender ideology for students in kindergarten through third grade. The legislation drew national attention after it was misleadingly dubbed the "Don't Say Gay" bill by opponents.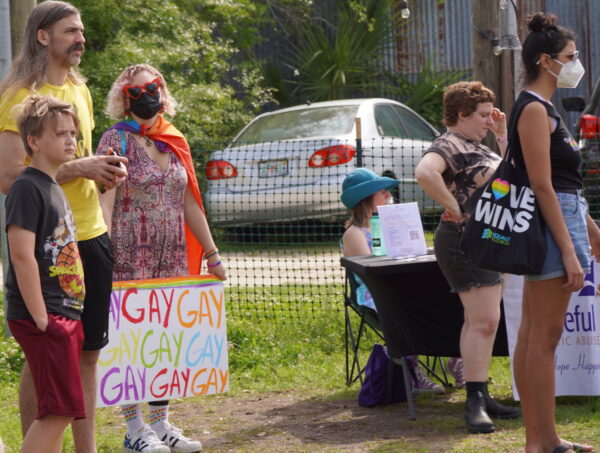 Though it wasn't the only corporation voicing disapproval of the law, Disney launched the loudest opposition, something executives thought "would kill the bill," DeSantis jeered. "Well, they bet wrong on that one."
He said his initial reaction to Disney's stand was, "They want to die on that hill of forcing sexuality and gender ideology in elementary school? You've got to be kidding me!"
The crowd booed at the mention of Disney, but roared approval when DeSantis said the state would no longer fund the company's "woke activism." At his direction, state lawmakers recently revoked special rules that had allowed the company to govern itself in the area encompassing the Walt Disney World Resort near Orlando.
Now, Disney will "live under the same rules as everyone else, and pay their fair share of taxes," DeSantis said.
"Americans are sick of these companies and their stupid activism."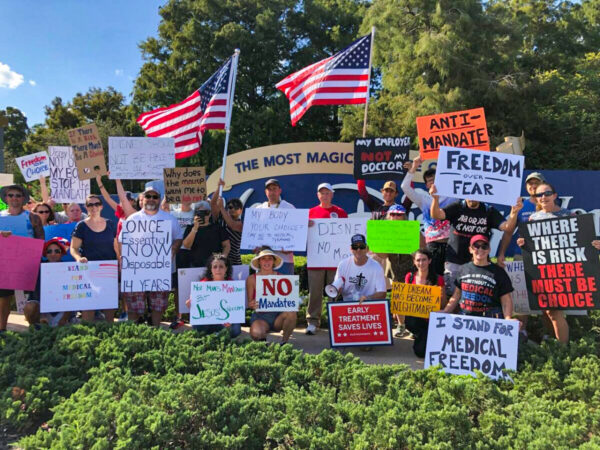 Moms jumped to their feet, cheering as DeSantis railed, "We've drawn a very clear line in the sand that says our school system is for educating kids, not indoctrinating kids."
DeSantis said he endured "hysteria and partisan attacks" by media, Democrats, bureaucrats, and some "establishment Republicans" for his battles against woke ideology, and for his COVID response. Indeed, he has faced widespread criticism for both, starting when he opened Florida's schools and businesses while others states remained locked down.
But his policy decisions, which were based on science, he said, saved jobs, and kept the state's economy moving forward. Recent education statistics prove the preservation of in-school learning helped children stay on track, he said.
He defied the Centers for Disease Control and Prevention (CDC) again recently, halting the mandatory quarantining of healthy schoolchildren for a reported exposure to COVID-19.
And children in the state would not be forced to take vaccines, "not as long as I'm governor," he said.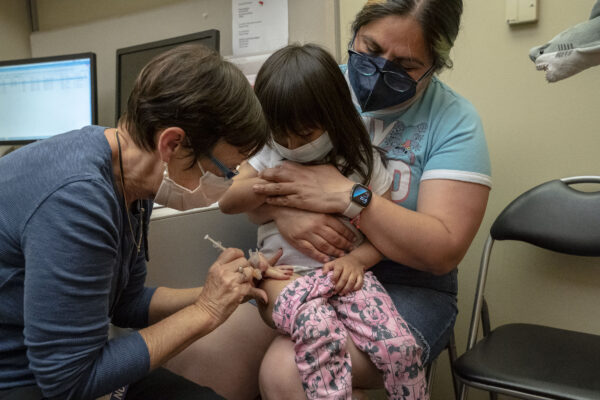 Pushing back against woke ideology and policies of President Joe Biden has become his brand.
He reminded the crowd that his critics loudly protested that he was "banning books" recently when his administration rejected school texts that weaved CRT into math lessons.
Publishers later revised the books "and sent us back normal curriculum," DeSantis said.
He warned that those pushing liberal initiatives would continue to criticize him and attempt to dismantle his policies, even though "people all around this country, they reject this nonsense."
But "leadership is about being willing to stand up for what's right, even when you're taking fire," he said. "I get criticized when I come out of bed every morning. It's part of the job."
He added, "if that somehow puts my job in jeopardy, if it doesn't work out for me politically, so be it."
Parents who stand against liberal and progressive policies will face similar attacks, he said. Courage is the antidote.
"If you go to that school board meeting, and you speak the truth, is the media going to hail you as a hero? No. They're going to try to smear you," he said. And it will be the same if they run for office.
"You've just got to be willing to stand by your convictions when it's not easy."
Reporting by The Epoch Times.