The water is reportedly "safe."
QUICK FACTS:
Three barges became trapped against a dam in the Ohio River in Louisville, Kentucky, after becoming detached from a tugboat.
The boat hit a structure at the entrance to the Portland Canal near the McAlpine Lock and Dam, resulting in 10 barges breaking free, three of which settled against the dam.
One of the barges held 1,400 tons of methanol, a toxic alcohol.
Methanol is a colorless fluid used in pesticides, aerosols, antifreeze, carburetor cleaner, and windshield washer fluid.
According to the U.S. Army Corps of Engineers, Louisville District, the incident was the result of a "navigation accident."
"The U.S. Army Corps of Engineers is working closely with the U.S. Coast Guard, navigation industry and marine surveyors to start the recovery efforts of the remaining barges. The locks will remain closed until the barges on the dam are stabilized," the U.S. Army Corps of Engineers, Louisville District, added.
WATER IS "SAFE TO DRINK":
A Kentucky state agency reported that there is "currently zero evidence of a tank breach or any leaks, and air and water monitoring resources are in place."
"There is currently no impact to Louisville Water's water intake or water quality," the agency continued.
Lousiville Water Company reiterated the statement, posting on Facebook, "Louisville Water is aware of an incident involving a barge downriver from our water intake. There is no impact to Louisville Water's water intake or water quality. Your water is safe to drink."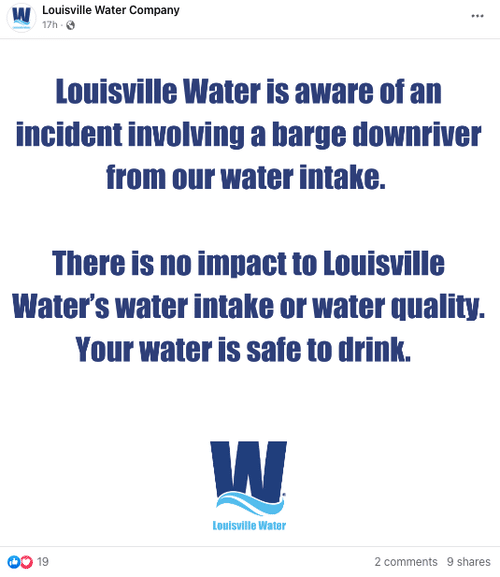 "Most methanol poisonings occur as a result of drinking beverages contaminated with methanol or from drinking methanol-containing products," the CDC states on its website.
"In the industrial setting, inhalation of high concentrations of methanol vapor and absorption of methanol through the skin are as effective as the oral route in producing toxic effects," the CDC adds. "The characteristic pungent (alcohol) odor of methanol does not provide sufficient warning of low levels of exposure."
BACKGROUND:
A train derailment in East Palestine, Ohio, released an array of toxic chemicals, although the Environmental Protection Agency (EPA) claimed it did not find an unsafe level of toxins in the area.
Researchers from Texas A&M and Carnegie Mellon University instead found that East Palestine, Ohio, has "higher than normal" levels of harmful chemicals.
While the EPA concluded from their investigation an average of just 0.00084 milligrams per cubic meter of benzene in the air, the Texas A&M researchers found 0.03, a 3,371% increase.